Quick links
Quick News
Recent News
Description
Main features
Supported Platforms
Performance
Reliability
Security
Download
Documentation
Live demo
Commercial Support
Add-on features
Other Solutions
Contacts
External links
Mailing list archives
10GbE load-balancing (updated)
Contributions
Known bugs
Web Based User Interface
HATop: Ncurses Interface
---
Willy TARREAU
You want to donate ?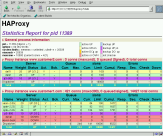 ---
visitors online
---
They use it !
Some happy users want to report their experience with HAProxy. Some sites openly confess they use it. Some users are simply curious about who currently uses it. So I'm assembling all these information here for them, in alphabetical site name order. If you think something is inaccurate, or if you'd like to send a few sentences about your experience and have a link to your site, please contact me.
A0 Labs
Quoting A0 Labs' CEO Olivier Warin: "A0 Labs is a French hosting company specialized in critical applications which need high performance and security. We have been using Haproxy for several years now and deploy it for our customers to provide high availability and performance to their web sites". I would personally like to add that A0 Labs helped a lot on the FreeBSD port a few years ago, regularly helps by benchmarking and testing new releases, and contributes to quite a number of other opensource projects, not just HAProxy !
Airbnb
Airbnb built SmartStack on top of HAProxy to have exactly the load balancer they needed. The article explains in details the limitations of all other solutions they have considered (including HAProxy itself).
Alibaba / Taobao CDN
Taobao's CDN is the world's largest picture CDN, it delivers contents for all online shops hosted by Taobao and Alibaba, they represent around 80% of China's online business. They use a lot of opensource, use simple and scalable architecture including LVS + HAProxy for the load balancing l