Quick links
Quick News
Description
Main features
Supported Platforms
Performance
Reliability
Security
Download
Documentation
Live demo
They use it!
Commercial Support
Add-on features
Other Solutions
Contacts
External links
Mailing list archives
10GbE load-balancing (updated)
Contributions
Coding style
Known bugs
---
visitors online
---

Thanks for your support !
---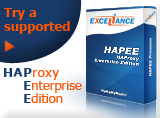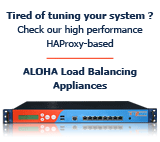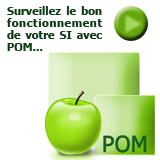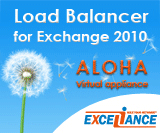 February 28th, 2017 : 1.7.3
HAProxy 1.7.3 was released on 2017-02-28. It fixes a few remaining bugs affecting 1.7, mostly related to DNS, Lua, header rewriting, and compression for the more serious ones. A few other minor issues were addressed. For the details, please check the announcement here. Code and changelog are available here as usual.
December 25th, 2016 : 1.6.11 and 1.5.19
There was nothing really critical on the 1.6 front but a number of fixes were pending among which some against painful bugs when hitting out of memory conditions. 1.5 had been lagging for quite longer and received fixes against a few risks of crashes when misusing sc_trackers, another rare crash in zlib not happening with slz, some situations where random connections can be frozen during a redispatch, and an issue with gcc 6 where the listening address could be ignored. For more info, you can check the full 1.6.11 announcement here and the 1.5.19 announcement here.

Code and changelogs are available here for 1.6 and here for 1.5 as usual.
December 13th, 2016 : 1.7.1
HAProxy 1.7.1 was released on 2016-12-13. It fixes a few regressions introduced during 1.7 and some painful bugs pre-dating 1.6 related to behaviour under low memory condition (thus expect 1.6.11 soon). The most notable 1.7 regressions that were fixed concern the CONNECT method which stopped working in 1.7, two typos on "show stat resolvers" and "show tls-keys" causing the output to be empty, a possible crash with "show stat" on a backend with no LB algorithm (dates back to 1.4 except that it would print "(nil)" by then), and support for LibreSSL was fixed. There are a few other small things and doc fixes, for more info, it's recommended to read the announcement here.

Code and changelog are available here as usual.
November 25th, 2016 : HAProxy 1.7.0 now released!
HAProxy 1.7.0 was released on 2016-11-25. It is considered by some of its contributors as the cleanest release ever produced. The development cycle for this version was focused on making it more reliable, more modular and more evolutive. And it pays, because most of the recent new features did not require any core change, resulting in a more reliable core engine and less bugs expected over time. There are too many improvements to list them here ; for a detailed description of the changes since 1.6, please consult the announcement here. Consecutive to this update, the haproxy.org website was also upgraded to version 1.7.0 and a new SSL certificate was installed now that StartSSL accepts up to 10 hostnames per domain on free certs.

Code and changelog are available here.
November 20th, 2016 : 1.6.10
HAProxy 1.6.10 was released on 2016-11-20. A few issues were fixed. The first one is a final fix for the connection layer with the revert of the previous incorrect fix that went into 1.6.8 and 1.6.9, which could cause some unkillable tasks to happen. Two bugs in the peers' task management were also fixed, putting an end to the few occasional reports of stale CLOSE_WAIT connections. Last, the systemd wrapper's signal delivery was fixed to ensure the signals are not lost and the wrapper always knows whether haproxy has finished starting or not. This ensures reload signals are not lost while the config is being parsed. The complete announcement is available here.

Code and changelog are available here as usual.
November 10th, 2016 : 1.7-dev6
HAProxy 1.7-dev6 was released on 2016/11/10. It completes a 13 months development cycle with some nice features that have been awaited for a long time, and managed to fix all the remaining bugs that were reported after the 1.6 release (1.6.10 will be issued soon with the fixes). The main last features are the s